New Blends Are Here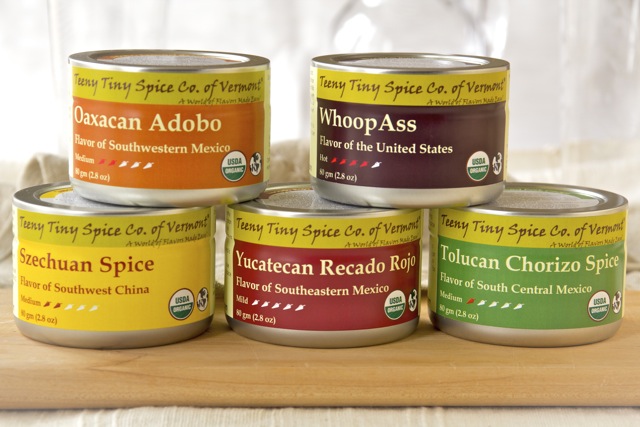 Ideas, recipes, tests, organic certification, kosher certification, recipes, labels, production batches, photos....done! We are happy to add five new blends to our "pantheon" of flavors.
We have three spice blends inspired by the cuisine of Mexico: Oaxacan Adobo, Yucatecan Recado Rojo, and Tolucan Chorizo Spice. They are all quite different, easily incorporated into a wide variety of dishes, and range from mild to medium heat.
Szechuan Spice brings two new ingredients into our raw ingredient inventory, star anise and Szechuan pepper. Try the Szechuan Spiced Grilled Pork Chops...Ed had them for dinner, breakfast and lunch this week.
WhoopAss was inspired by the many requests that we have had for a hot grilling spice. It has the heat, but we could not do hot without including a lot of flavor too....it just wouldn't be us. Nick's WhoopAss Barbeque Chicken has been on our table a few times already and it is finger licking good (although Thora hates it when we lick our fingers!). We have also been opening a can of WhoopAss on our burgers, eggs and veggies with great results.
We will be adding more recipes for these blends to our recipe section over the next few weeks, but as always, they are easily incorporated into your usual cooking routine.

For all orders of two or more tins, you will receive a discount of that percentage off of the tin price up to a 20% discount. Buy 6 tins, get 6% off your order. 15 tins, 15% off your order. Mix and match blends to suit your tastes.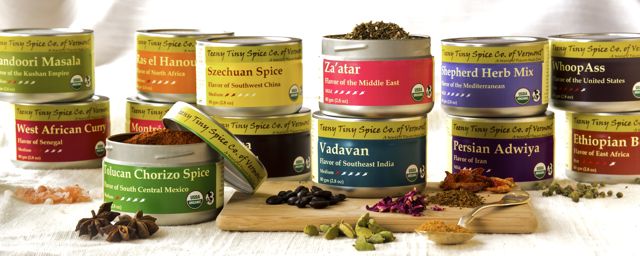 Teeny Tiny Spice Co. of Vermont® is a small, family run specialty food business. We create and manufacture 100% organic spice blends that represent varied world cuisines. To ensure that you have the freshest spices and herbs, our mixtures are made in small batches and ground just before packaging. Ingredients are of the finest quality. When blends include salt or sugar, we use Himalayan Pink Salt and organic Vermont Maple Sugar. All of our ingredients for each blend are listed, so you know exactly what you are getting.

Our spice blends have been developed to provide home chefs with a convenient method of adding exotic flavor to their dishes. We are enthusiastic cooks. Despite our kitchen's extensive spice collection, we often found while planning more exotic dishes that we did not have all of the ingredients called for. Red and pink rose petals? No. Ajwain seed? No. Juniper Berry? Well, yes. But having 9 out of 12 spices does not give the flavor that you are trying to achieve. So Teeny Tiny Spice Co. of Vermont® was born to provide you all of those spices, already combined in proportions to give you just the right flavor profile to create dishes with the essential flavors of North and South, East and West.


The beauty of Teeny Tiny Spice blends is how easy it is to use them in meals that you are already cooking. Turn a meal of plain chicken and rice into a Persian feast. Spice up your eggs in the morning with some Ethiopian Berberé. Create a sumptuous Southeast Asian meal in no time. Wow your lunch or dinner guests with Indian Inspired barbeque


Explore our blends and enjoy the flavors.

- Thora, Ed, Maddy & Nick
Phone: 802-598-6800
Fax: 603-768-4247
USDA Certified Organic by Vermont Organic Farmers

Certified Kosher by EarthKosher
Photos by Katie Webster & Stephen Saint-Onge